Mezz
Mezz is a concert venue in Breda. Everyone who works there loves their job and loves and lives for music. But unfortunately, this energy, innovative spirit, and skill for discovering new talent didn't come across in their communication. As a result, fewer people visited or even considered Mezz.
Services
Brand positioning, Brand DNA, Visual & Verbal Identity, Product & Brand Campaigns, Onboarding, Interior Design
Awards
Red Dot award, ED Award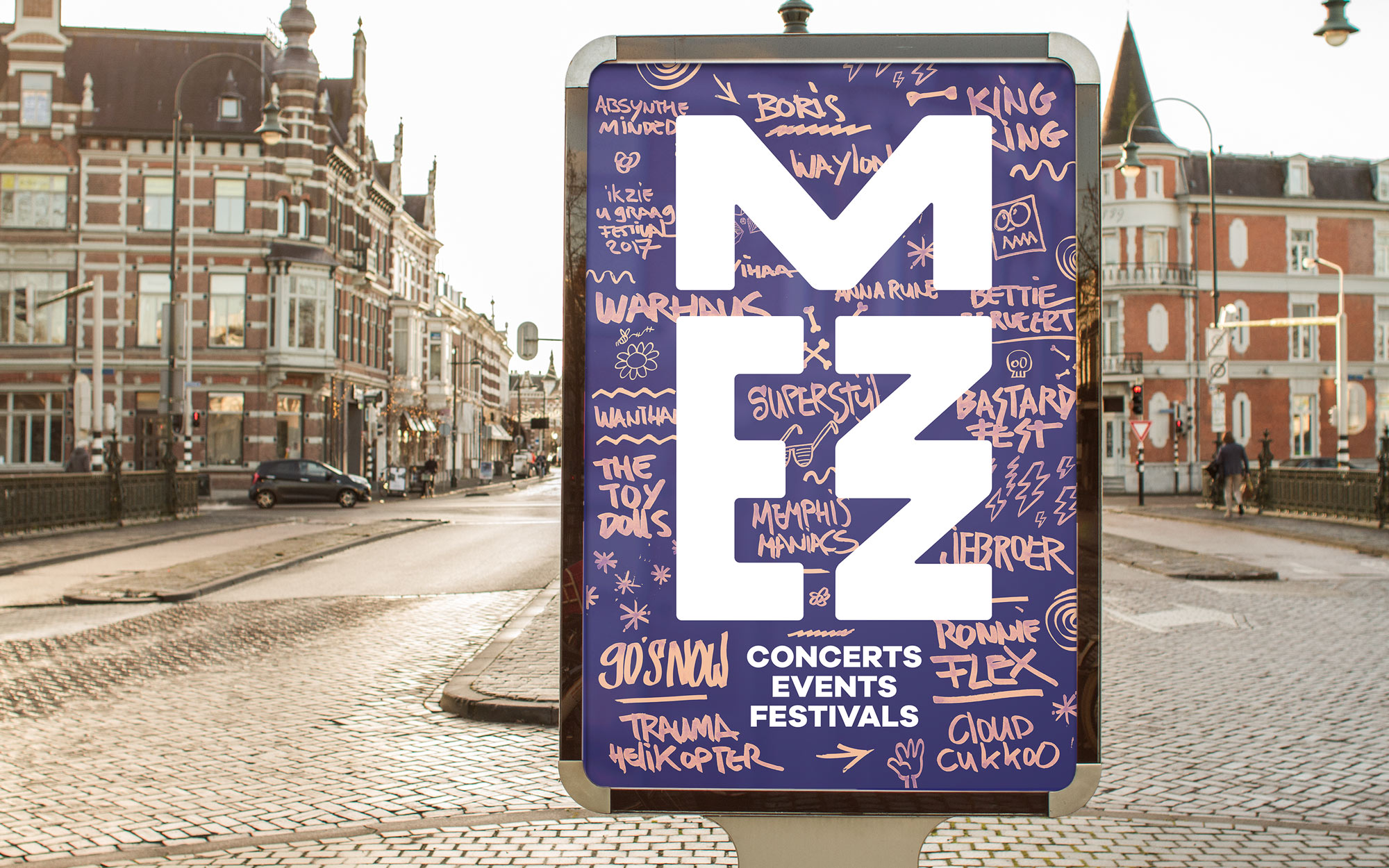 Get Mezzy
Brand awareness was relatively high, but there was quite a gap when it came to brand image. So we got down and dirty and started a creative, strategic process of uncovering the brand's essence. The fundament. The DNA of Mezz.
Mezz is on a mission. To seek out fresh new talent, so you can say to your friends: "I saw them at Mezz before they were famous." Trying to find the next new thing is not without risk. There will be less talented (terrible) discoveries on the way. Not everything will be perfect. Not every show will be flawless. But there's always the chance that you will discover your new favorite artist at Mezz. That attitude, that energy of creation and discovery, defines Mezz. We captured it in their brand DNA: "Let's Mezz things up."
"Das Buro - rock 'n roll ja - heeft ons in een spannend traject binnenstebuiten gekeerd en onze innerlijke toon vertaald in beeld, woord en gebaar."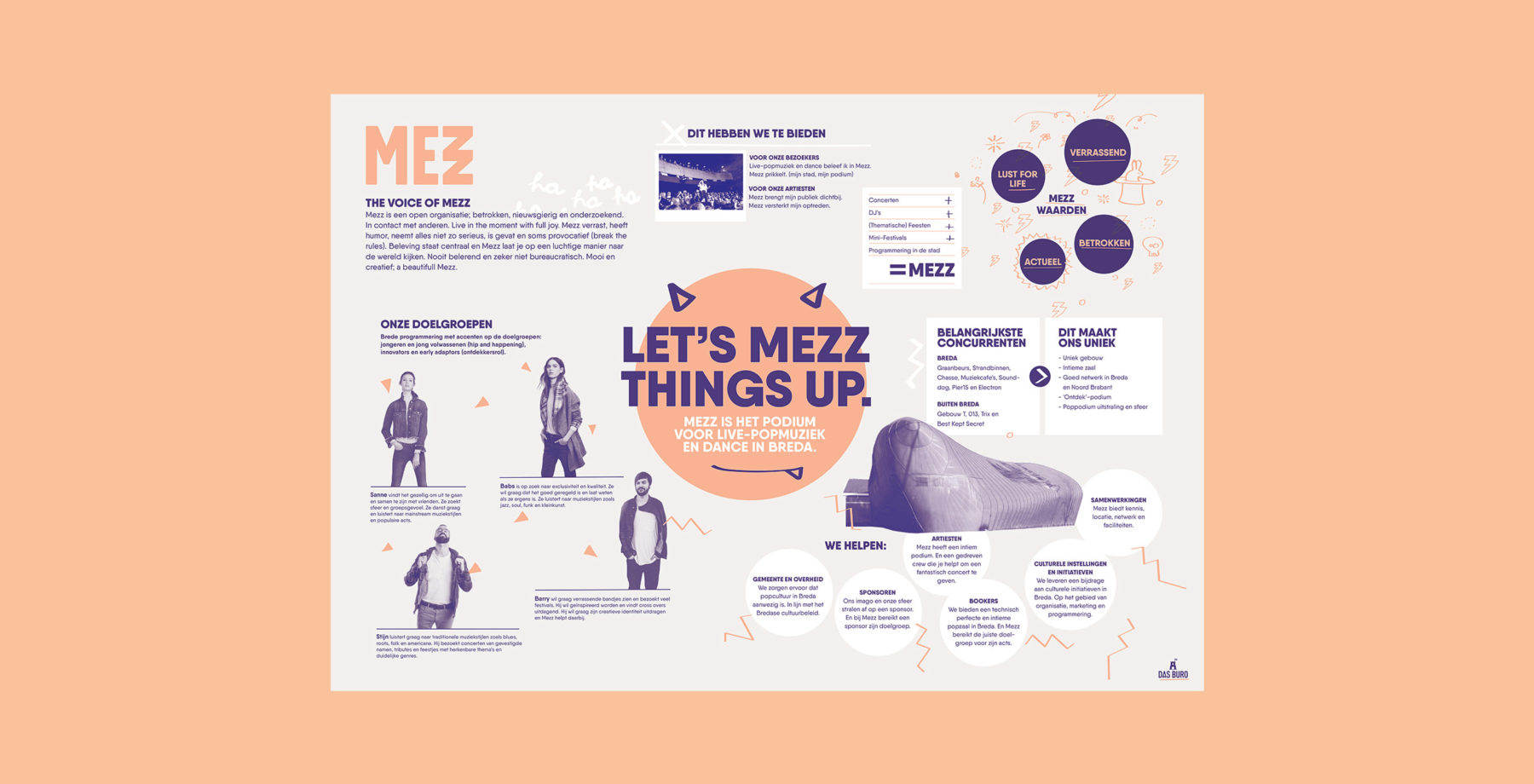 Talk the talk
We captured the spirit of Mezz by combining the feeling of a local neighborhood basement stage while still looking like a professional music venue. Mixing found footage, hand-drawn illustrations, and a limited color palette to create a recognizable, creative, and user-friendly visual identity. Of course, we think we did a great job, but don't take our word for it. We received several international design awards for this rebranding, including a Red Dot Award and a European Design Award.
The rebranding and repositioning of Mezz have not gone unnoticed. The outdoor campaigns, indoor signage (with mesmerizing projections, thanks to Jamie), and a fresh new website have got the whole of Breda "Mezzed up."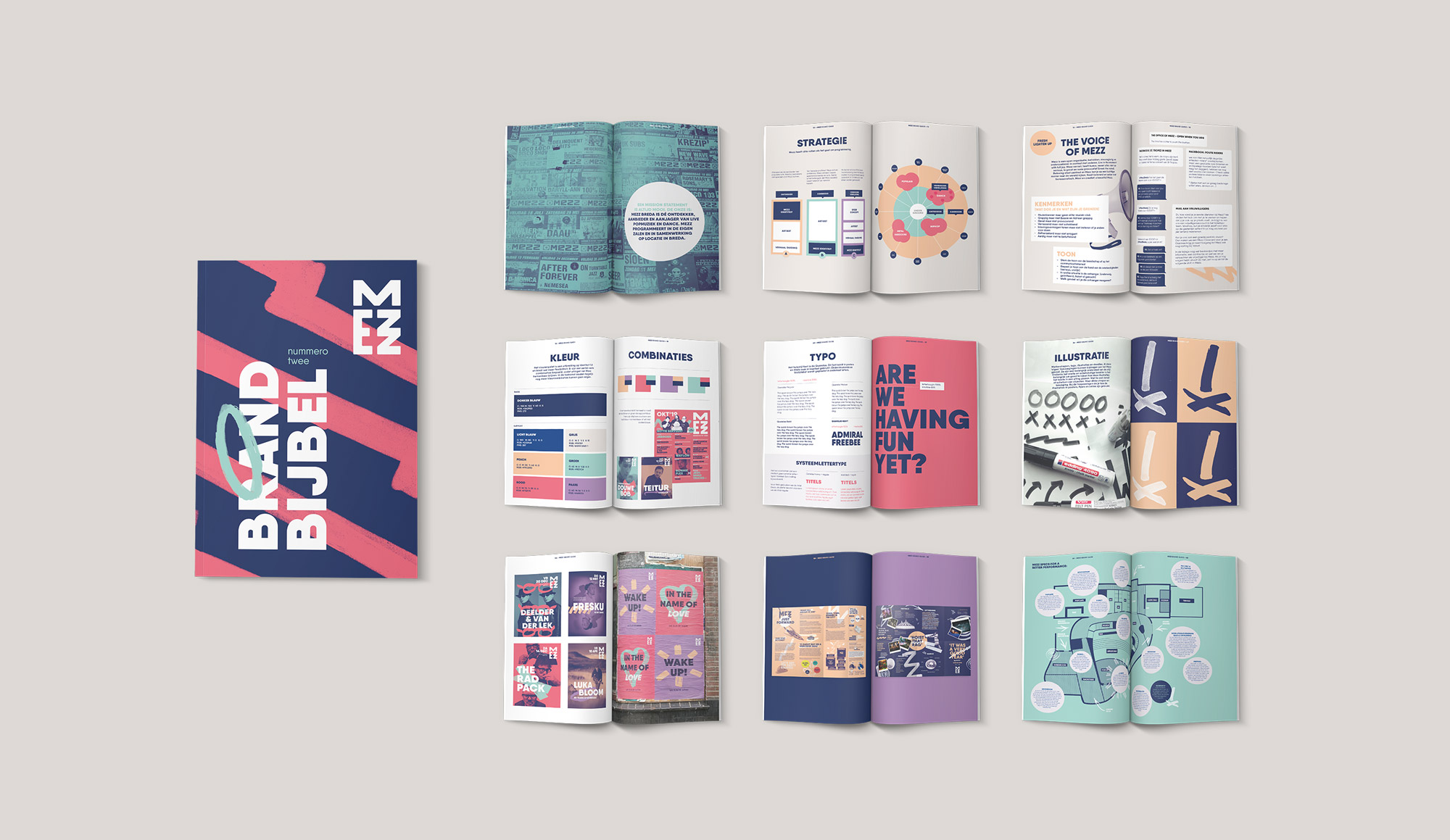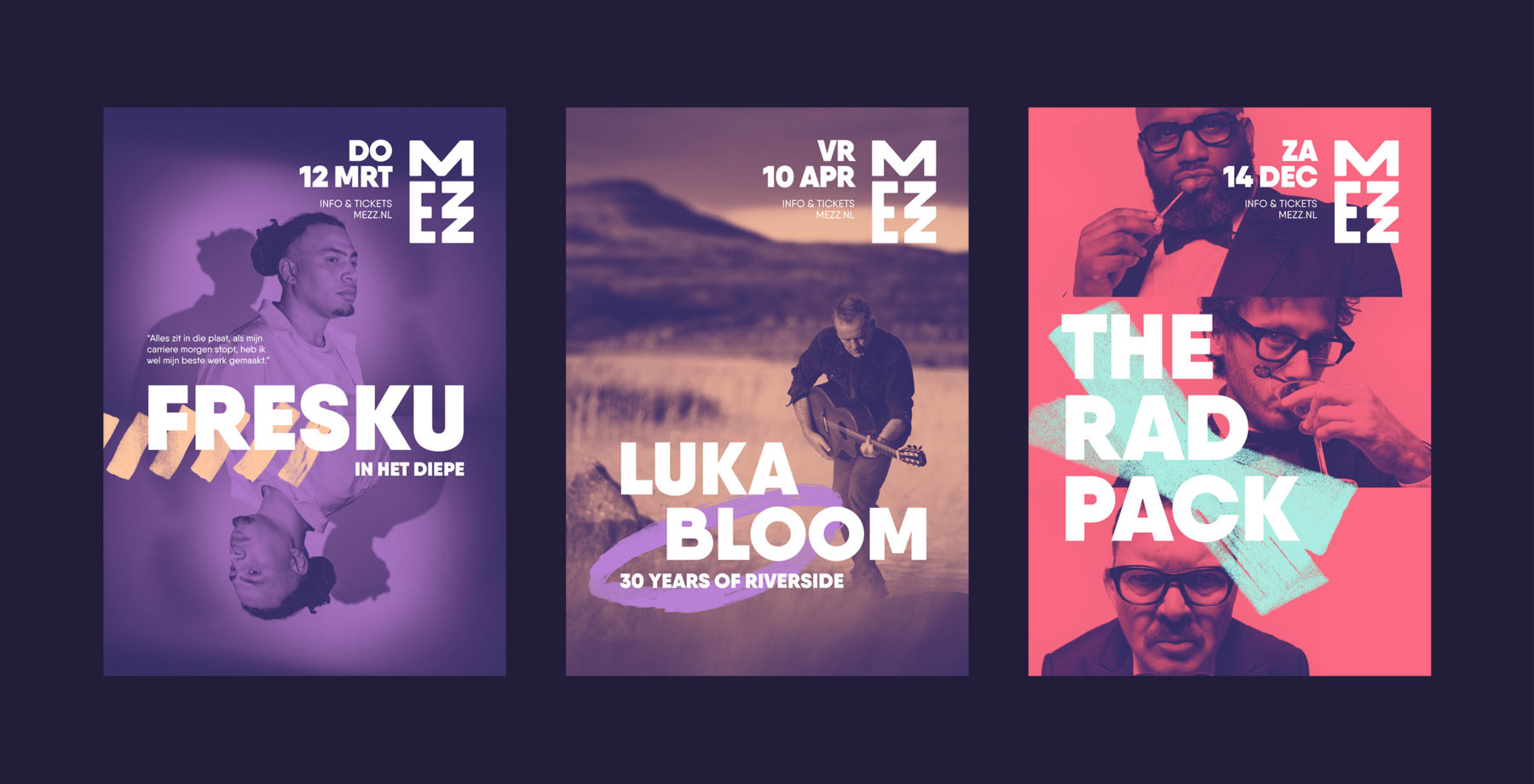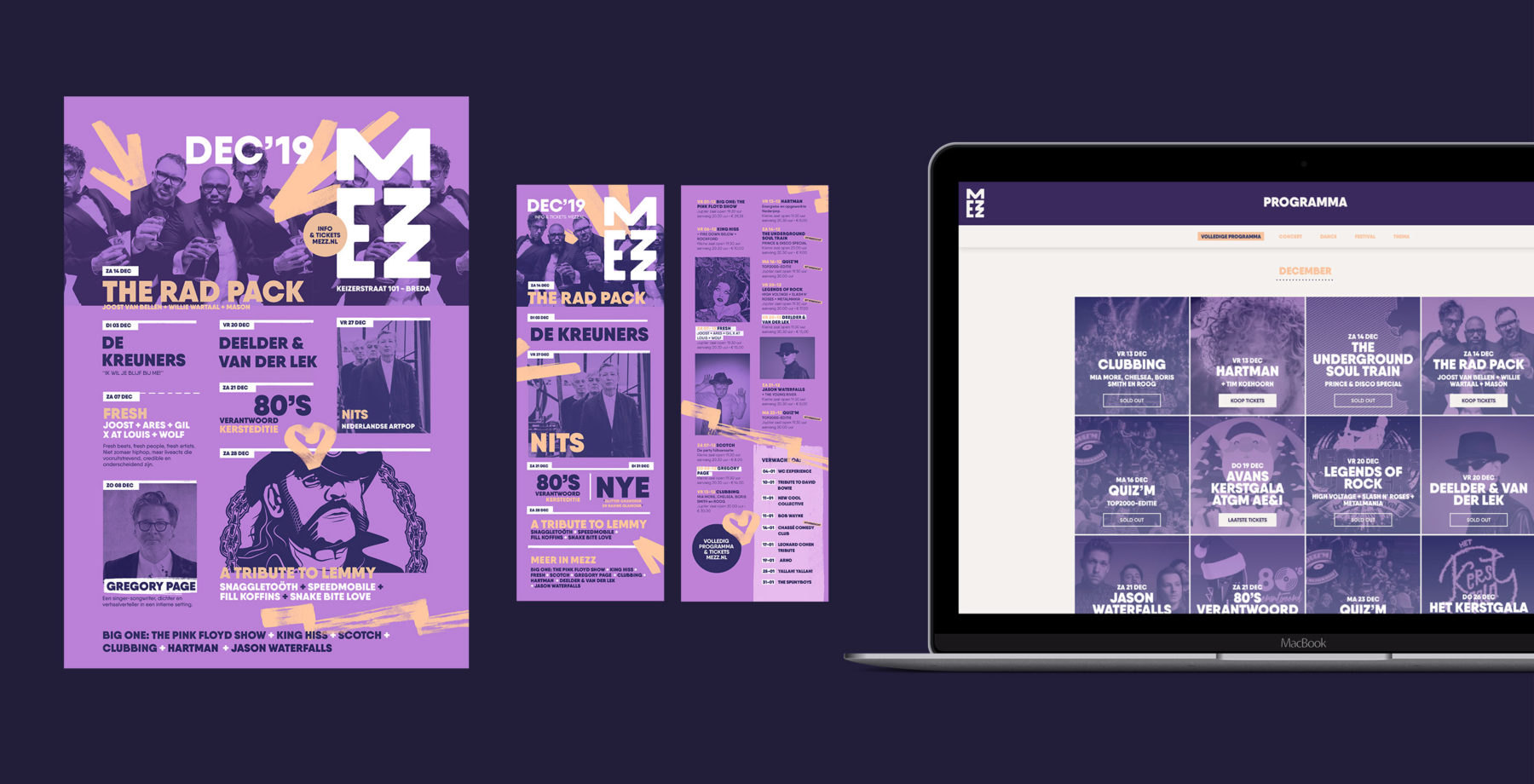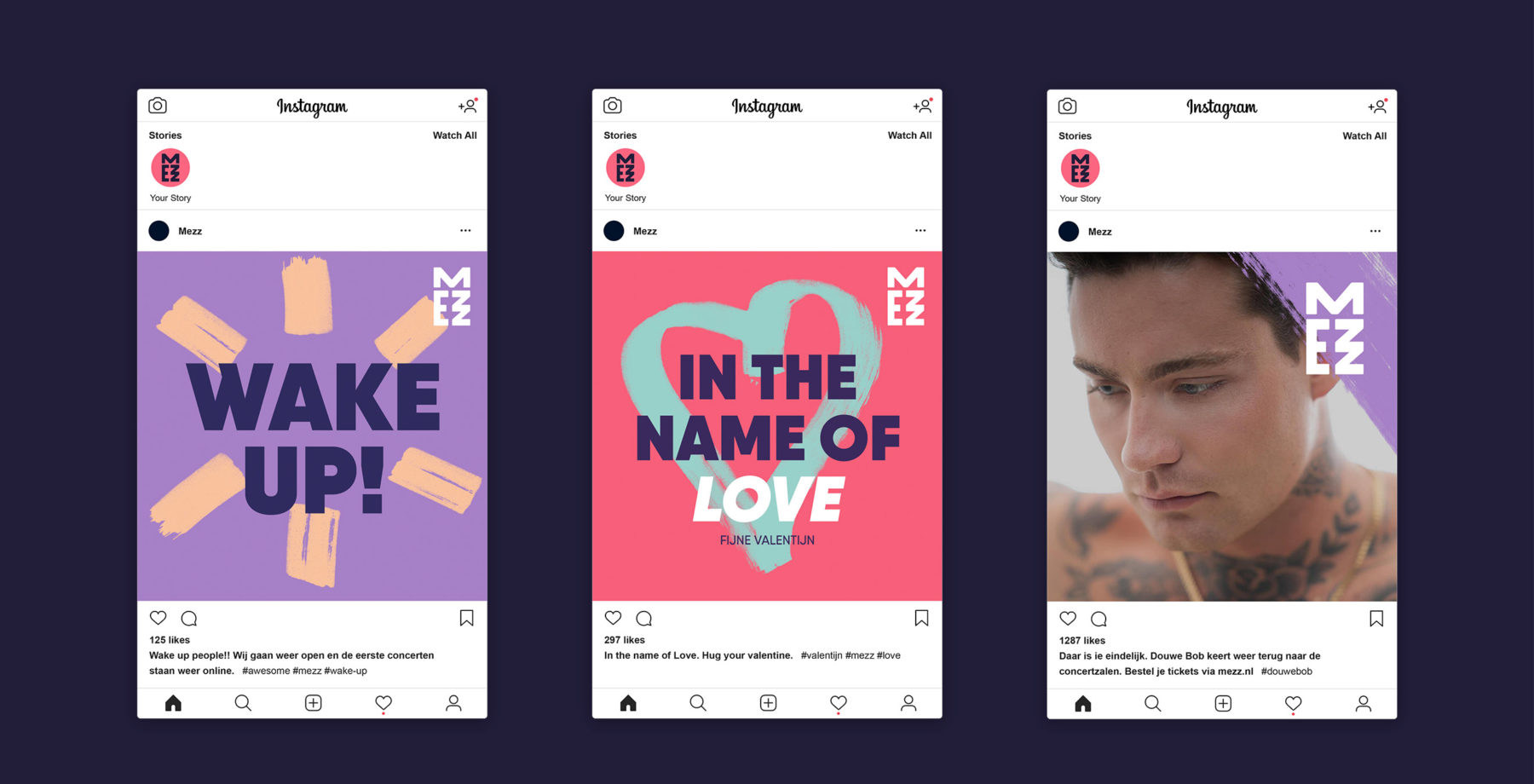 Internal Mezz
Most importantly, the brand was embedded in the organization. We did internal feedback sessions and presentations to ensure a thorough understanding within every layer of the organization. Why we needed this repositioning and what it could bring for all. We emphasized the importance of everyone's role by introducing brand boxes to all employees and volunteers. They included, amongst other things, a brand poster, stickers & badges, a t-shirt, and earplugs. This was part of a larger internal branding project. An often overlooked but essential part of any rebrand, refresh or repositiong.
We're still smack-bang in the middle of positioning the Mezz brand. Two things are already clear. The energy is back. And so is the audience.